1956 Fender Stratocaster
The Fender Stratocaster,designed and realeased in 1954 by the late Leo Fender is still to this day,one of the finest guitars in the world.The Strats of the 60's came in a variety of candied car finishes as well as a couple of sunburst choices.The so called "pre CBS" Strats were made before 1967 and are sought after because of their less mass production like qualities after the corporate giant CBS took over the Fender company.
1955 Gibson Les Paul
The Gibson Les Paul guitar was an invention of Mr.Paul when he brought the Gibson what he called "The Log".A solid bodied guitar with pick ups and knobs.Gibson then turn that bizarre looking invention into a piece of art.Feedback resistant and powerful is the Les Paul guitar.The famous "flamed top" guitars of the late 50's were the from the use of curly maple tops.Les Paul also invented the muti track tape recorder.
1961 Gibson ES335 Dot Neck
1972 Gibson Firebird V
The Firebird had a unique design.The guitar was actually a one piece neck with the body sides joined and glued.The pickups are actually the same pickups used in the Les Paul Deluxe guitars.They are nicknamed,small humbuckings.The headstock was very unusual and the tuners can be upgraded with Grover banjo tuners.The guitar body was all mahogany.
Gibson Hummingbird Acoustic
The Gretsch White Falcon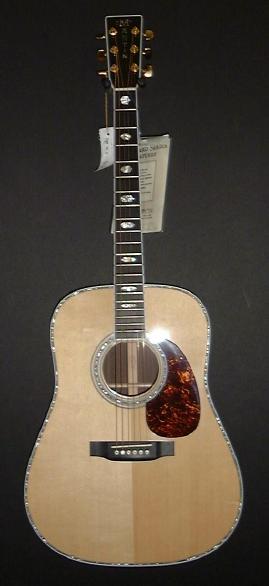 Martin D41
Martin 00042 Eric Clapton model,Brazilian Rosewood
The Martin acoustic guitar sounds as good as it looks.Remarkable craftsmenship and design are these fine intruments.Martins prior to 1970 used Brazilian Rosewood as a production wood for the sides and backs of all top of the line Martins.As this particular wood became scarce Martin introduced its D35 model dreadnought guitar.Usually each guitar had two piece bookmatched backs o the Brazilian Rosewood.Martin then using a three piece back to use less of this rosewood .Bookmatching,the best I can explain,is when a piece of wood is split and opened like a book so you have two perfectly matched sides.Brazilian Rosewood is from the rainforest and is becoming very scarce these days along with ivory.
1972 Martin D28

1958 Fender Telecaster

1962 Fender Precision Bass

1958 Gibson Flying V